On the eve of parliament's decision on whether to bomb Syria, hundreds of Nottingham people gathered under the statue of Brian Clough to protest against the motion.
Video: Hundreds of people took to the streets to protest.
Around 500 people attended the demonstration organised by Nottingham Stop The War.
The crowd marched twice around Market Square chanting 'Don't Bomb Syria' and 'Not In My Name'.
Melanie Desert, a student at the University of Nottingham described her experience:
"It was really uplifting because I felt part of something much bigger than myself. The presence of all ages including families with mums and babies made it really special".
Ummar Kazmi, 18, who publicly spoke at the demonstration said it was 'a far bigger turn out than he expected'.
Video: Umaar Kazmi, young Labour member, talks about the demonstration.
David Cameron has urged MPs to vote in favour of the motion, stressing it is Britain's moral duty to help our allies in attacking ISIS in Syria.
The Prime Minister also warned that Britain will be making itself vulnerable to terrorist attacks if it does not target ISIS strongholds in cities like Raqqa.
Emphasising that the situation was complex, Cameron said:
"I am absolutely clear that we must pursue a comprehensive strategy that also includes political, diplomatic and humanitarian action."
Video: 'we have to hit these terrorists in their heart land' David Cameron
Labour leader Jeremy Corbyn has strongly opposed the motion, however, after immense pressure from his shadow cabinet he has allowed MPs a free vote.
What do the public think?
Leading up to the Commons vote, public opinion stood at 59% approval for UK military action against ISIS in Syria, compared to 20% disapproval, according to a pol by YouGov UK.
This percentage dropped to 48% approval compared to 31% disapproval a day before the parliamentary decision.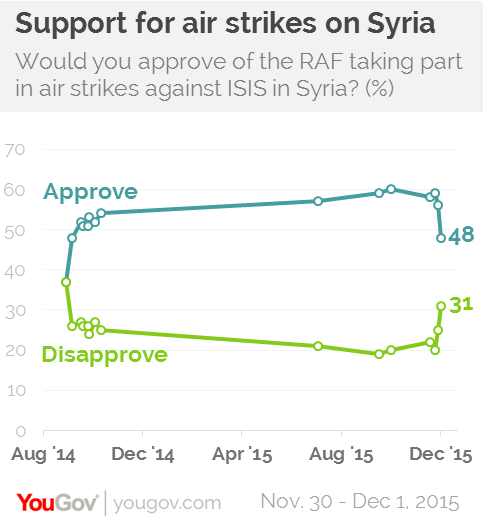 Source: YouGov UK
"It's important to keep up public pressure on MPS because otherwise you let them off the hook"

Stewart Halforty, Secretary Nottingham Stop The War
Nottinghamshire MPs have been divided over the parliamentary vote. Lillian Greenwood, MP for Nottingham South said, 'a vote on military intervention is one of the hardest, and loneliest, for an MP to make'.
Video: Stewart Halforty, secretary for Nottingham Stop The War, talks about the mixed reaction from Nottinghamshire MPs.
According to political commentators it is likely a majority will vote in favour of military airstrikes against ISIS in Syria.
For more information on future demonstrations, follow Stop The War here.
You can also follow Anna Butler here.
Have your say?
[polldaddy poll=9281610]